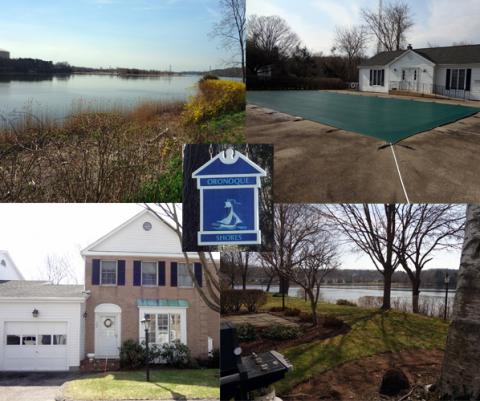 Oronoque Shores Condo Community by the Housatonic River Stratford, Connecticut 06614 Fairfield County Connecticut
Oronoque Shores Condo Community in Stratford, Connecticut has a total of 40 units. And some with beautiful direct views of the Housatonic river.  The community has a pool and clubhouse to enjoy during the summer.  And it's the perfect low maintenance townhouse in Fairfield County.
Condominiums are town house style, duplex style, 2 units per building.  Waterfront units enjoy the view of the Housatonic from living rooms and master bedrooms.  Units also feature roomy eat in kitchens and attached single car garages.
Oronoque Shores in Stratford, Connecticut is well located.  And close to many wonderful areas in New England.  The Merrit Parkway( route 15) and Interstate 95 are just minutes away. Find the most fun things to do near Stratford, Connecticut.
14        miles to New Haven, CT  and Yale University
66        miles to NYC
146      miles to Boston
If you like to travel and need low maintenance home in Fairfield County, Connecticut Oronoque Shores is the perfect place to fit the bill.  The community pool and water views from your home will make it feel like a resort more than a just a townhouse.  Come see what Oronoque Shores has to offer you in Stratford, Connecticut.
Oronoque Shores Condo Community by the Housatonic River Stratford, Connecticut 06614 Fairfield County Connecticut